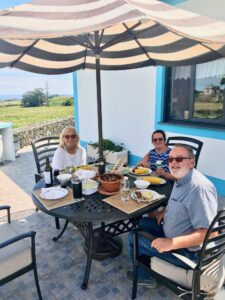 Giving up is too easy. I wasn't raised that way. I was raised to have a vision, work hard, be patient, and you'll achieve it.
While I haven't yet achieved every dream I had, many have come using this formula; vision, hard work, and patience (definitely not my forte!). But then again, when something you've dreamed off does come true, it's great to relish it.
So after retiring from the U.S. government, years in the military, travelling around the world many times, settling in one sub-tropical island with a loving wife and family, the "retirement dream" began to appear on the horizon. First finding land with a dream ocean view just a few meters from family. Then finding the best builder on the island, developing a floor plan and seeing it constructed with extraordinary quality, then moving everything we own halfway across the ocean. "The Dream" was moving closer on the horizon. We could see it now while having breakfast in our new kitchen. It was close, just not quite there yet. Wonderful family, great friends living around the island, even a visit from a few in the states, but….
The girls met at a party in Angra do Heroismo. I think it was a Halloween Party, or something similar in the Portuguese culture. They got to know each other better over months and "dragged" husbands along for a lunch. We all it off perfectly; both couples had lived and worked in similar places around the world. Both couples boasted fabulous daughters. Over the course of a year or two, we all became great friends. So, back to the dream…
Great house, great weather, great food (and wine), and great cool breeze blowing over the great ocean view. Great wife (a.k.a. partner, cook, friend, and supporter). It all came together last week. For me, personally, the dream came true.
So, while not pontificating or preaching, I once again defer to the lessons of my childhood. Have a vision, work hard, and eventually dreams come true. Those of you who know me will attest that as I publish this, a million sarcastic straight lines are screaming to get to the keyboard. But I can't be sarcastic (gasp…you say?) about a dream this old and this much effort. I can only be thankful and honored that I have been blessed with this magnificent event in my life.
Keep working toward your vision, or enjoy your achievements!