I'm a pretty antisocial character. Seriously. But over the years I have learned how important it is to make the effort to understand 'if and how' other people perceive me; this often results in lasting friendships which follow me from every corner of the Earth.
Fortunately.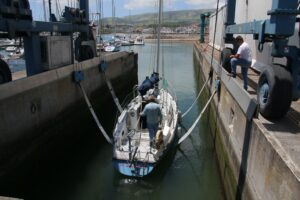 For instance, we had dinner with our sailor friends the other day, along with another couple who are visiting them. Had a wonderful time, shared a lot of history, stories, and wine. Turns out this other couple is also contemplating buying a small place here on the island, after many visits. We all got along famously and hope to see each other more. In fact, we offered to help them find a place and help them settle in amongst the challenges of finding and buying a place here.
I also learned another joy of meeting some new folks, especially a couple who speaks English. This is the sheer joy (and embarrassment) of telling tales of when the warden and I met, where, how, dates, weddings, honeymoon, etc. Maybe I'm getting old (no doubt) but I get more and more personal comfort in hearing her re-tell some of these legends. Even the embarrassing ones:)
As I settle into my fourth year here, I make more friends. While I was down ill last year, several shooting club buddies have taken to stopping by the house to see how I'm doing, offer ideas, suggestions, alcohol, and encouragement. One of the more familiar Portuguese phrases I've mastered is "if I can do anything to help, just call on me!" I always echo the sentiment ("Igualmente") and we continue to check on each other.
Another friend, an ex-pat couple who settled here after numerous U.S. Government-assignments here over the years, are frequent dinner companions, concert companions, and coffee meetings where we DO solve the problems of the world. We often only meet once or twice a month …. based on how many world problem solutions we have developed:)
So yes, I am an anti-social type (evidenced by the fact that I only meet for coffee or drinks every few weeks, as opposed to many friends who meet virtually daily to walk, work out, drink, and support local cafe owners:))
So what have I learned, Dorothy? I have learned that I must make an effort, move out of my own comfort zone, to make and keep friends as I age into retirement. I call my old work associates, I use social media (not a lot) to keep up , comment on their progress and challenges, and offer some free (worth-what-you-pay) advice on my success and failures to solve similar situations.
I expect these thoughts are common-sense for most people, but I'm antisocial, so it's taken me more time to learn and value friends and the minimal efforts I've made to meet and keep friends. I guess friends and family are critical to successful retirement!
Having said that, I'm off to Bela's to meet some friends and have a coffee!