So I'll try to concisely summarize what our relaxation includes. It's not easy, often because in other countries (even parts of mainland Portugal) many folks can't relate to the island "definition for fun." Even after being stationed here and visiting for more than 25 years, it took me about four years to adapt, and I'm still working on it:)
Festivals: Every village in the summer hosts a festival. Local bands play old songs and march to new songs, very accomplished guitar players regale us with tunes from their forefathers day, dancers dress in the attire of our neighbor's great great grandparents, then dance up and down the street; every age group, from little children through young couples, local merchants and retirees. (During large festivals, the parade route takes about four hours…that demonstrates the fortitude, dedication and energy of these people)! Here in Terceira we are honored to have a group I personally have enjoyed through many free concerts, FadoLado was the winner this year of Portugal's Got Talent, they are from the same town where we usually go the beach, and the group and their backup musicians often provide free concerts for everyone on the island. In this photo, male singers from our nearby village of Fonte do Bastardo join them for fun, bantering, and wonderful sounds.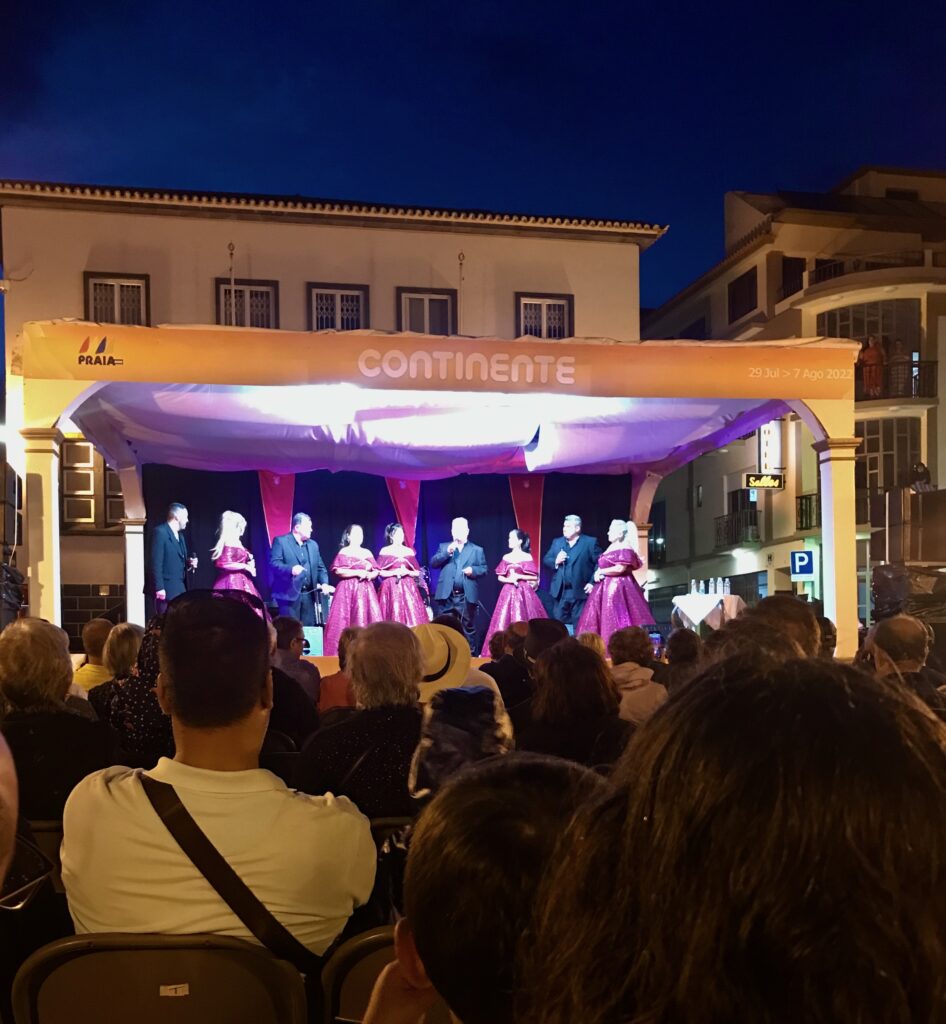 Major festivals (Praia and Angra do Heroismo) are only once a year. Each other village prepares, spruces up everything in each town square, and has their own festival, local bands, singers, plenty of food and drink, local handicrafts, etc. Nearly every weekend in summer months you can just drive until you find the next festival. Driving around is fun — the entire island can be visited in about an hour — just about the same time it takes to park and walk in a town with a festival:) Terceira is growing more popular, and as always, it's a two-edged sword… stronger economy, new neighbors and ideas, but traffic and parking get more challenging each year.
My plan was to list a little about each form of entertainment, village bullfights, arena bullfights, cultural demonstrations from islanders and other nations, etc. Decided I can't do it in one post, it is too long and detailed. Just tune in again, see more, and check back. Meanwhile, I'm heading to the beach…after I mow the lawn:)