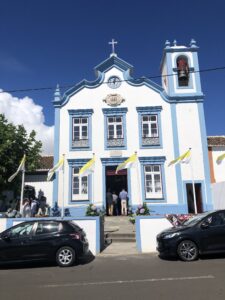 The 'hood grew last week in Porto Martins as our neighbor's newborn, Amelia, was baptized and a new priest arrived to shepard the Porto Martins Catholics.
Nearly eveyone agrees life on Terceira is tranquil, relaxed, and friendly. When asked why we retired here, the first answer is usually "to be near Sofia's family" or "because the people here are so great." The tale of how we found an overgrown plot of land across from her sister's new house, turned it into a wonderful home with a great view of the ocean, and grew to love our new neighbors is a major success story. We look out the window, watch news of the world, and hug each other!
How do we guage acceptance and freindliness? This year one neighbor invited us to his Esprit do Santos celebration, a week of friends, feast, drink, and meeting his friends and family. This past week, another neighbor invited us to his daughter's baptism, a celebration and feast for the first of many sacrements for this darling little infant. Also noteworthy was this gathering at our little (tightly-packed) church built in 1901 was the arrival of a new priest, a man stretched with sheparding over Praia Da Vitoria and several other churches besides Porto Martin.
Many who know me know I'm not Catholic, not practicing very much, etc. (One friend, a pastor in Michigan, always quips "the church wasn't hit by lightning when you walked in?") So I maintain it's not the practice of faith as much as the tremendous community feeling here. As neighbors drive by, they wave, invite us to family events, and ask how we're doing. To a guy who lived in apartments where we never saw our neighbors, that feeling is very inspiring. Kind of refreshes our view of humanity.
Not a big deal in the balance of the world today, but reinforces our continual happiness of retiring into a little Portuguese village!