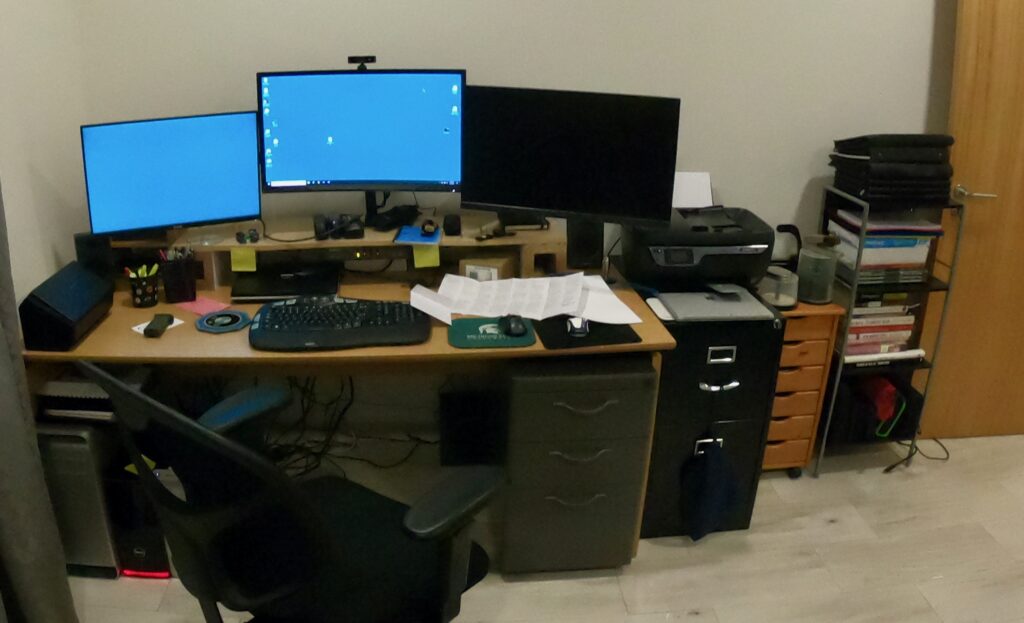 Spring Cleaning — Digitally
After many years of earning a paycheck for online activities and travelling around the globe, I wanted to share some ideas of what everyone might try for a little digital spring cleaning.
Don't let it phase you!
Living overseas or from a suitcase, I have avoided some digital disasters with a few simple actions. I run this list every few months, but Spring Cleaning might help shake cobwebs from the digits and accounts we all rely on when overseas. Some of them are common sense, some are simply awareness, and some can be downright daunting. If you're not more comfortable, find someone who is, but please, do it.
Back up all of your digits

Your cellular phone(s). Simple process, often easiest to jut search for instructions for your operating system (Android or iPhone), hook up a cable or point to a cloud and let it rip. It's also a good time to delete some stuff…my wife uses her iPhone to help her remember appliance serial numbers, hard to see places under cabinets, etc. Takes up space and slows things down. Purge things you don't need and back up.
Your desktop or laptop. Invest in an external hard drive (I always recommend Paulo at Ciberangra in Praia across from the police station…perfect English, good advice, and good prices. Depending on the size of the USB drive (just one cable and the plug) you're up and running. Most external drives come loaded with backup software.
If you want to get braver, download or buy a program to scan your hard drive, remove useless software, malware, and things that will slow your computer down. Then back it up!
Update your software. Windows or Mac, sometimes your settings allow automatic updates; sometimes that's turned off. Run updates to get the latest security patches, etc. Update your profiles for accounts if needed: retirement, investments, government(s).

Think about investing in an Encrypted Hard Drive. Going back to my military days, I bought two virtually indestructible "thumb drives" that's encrypted. The teeny tiny numeric keypad is coded with my secret combination, which then makes it so I can see the contents…scans of our ID cards, passports, important papers like home ownership, insurance, birth and death certificates, credit card and bank accounts, etc. Whenever we travel off-island, we take the drive, so no matter what happens, we will have copies of the important information we need to get our lives back on track. I've carried this thing for decades, around the world, and never had to use it — that's a good thing!
Take a few moments to "Google" your own name(s) and see what the world sees about you. You should see your social media accounts, perhaps a list of your past jobs and cities you've lived in, etc. Many times you will also find a few surprises. For instance, when I Googled my full name with middle initial, I discovered that the State of Michigan had an old tax refund check waiting for me, which I claimed and used to buy another subscription for anti-virus software. You could also run into some bad information which might need addressing.
Check your security settings. On Social Media accounts, most are constantly increasing the "robustness" (not sure if it's a word, but you get the idea😊) for personal security. Some accounts like Facebook also have preferences for if you can't access your account, and/or if you pass and your friends or relatives have to decide what to do with your account.
Record Passwords and Logins. I know such ideas are strictly Verboten, but I keep my login information hidden just so my family can cope with any situation -insurance, bank accounts, social media, etc. In my days as an Air Force planner, we documented things under the "if I get hit by a bus" presumption…my plans will still be accessible to those who need them. My wife, children, and business associates know this system and seem to like it. (There are those who think I use too much detail, but hey, different generations!)
These are relatively simple steps. This list is NOT comprehensive. But it is a start. Hopefully, it prompts you to think about "your digital footprint" at least every spring, time change, quarter, birthdays, any simple tracking mechanism. Also hopefully, it prompts you to be slightly adventurous, invest in some technology which you may never use, but will save you days of distress in the event of a natural disaster, cyberattack, lightning storm, power surge, blackout, etc. If you can't or don't want to face the challenge, hopefully it will prompt you to find someone who can and will help, and then YOU need to check the results. You are the one who has to live with them.
After you spend some time on this project, go outside and enjoy spring…or at the very least, do what I do and go help the "warden" do spring cleaning…don't forget under the refrigerator😊!