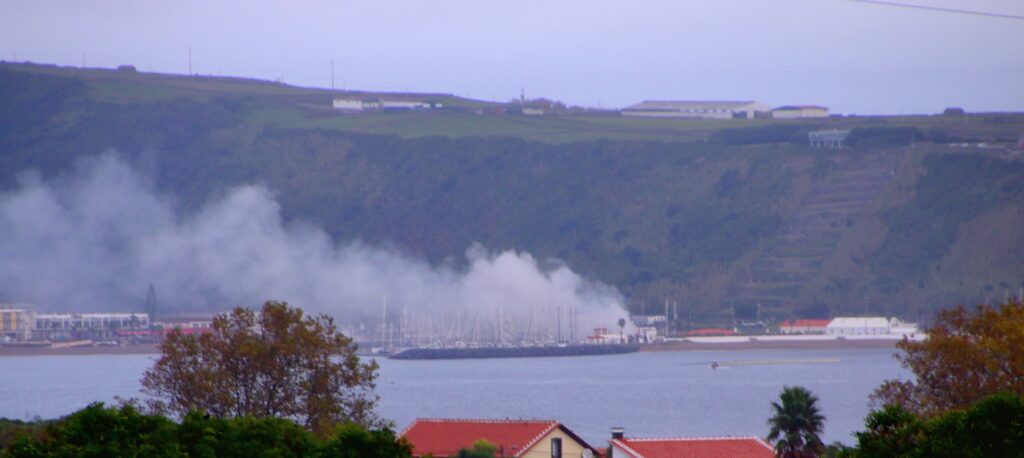 Several weeks ago, before we started traveling to different islands for fun, we sat down to breakfast. Usual procedures, good morning kiss, feed the doggone cats, Sao Miguel cheese, toast, jam, and coffee. Then we turn on YouTube for last evening's news. We listen to the US newscast, discuss the world's situation, solve the problems of the world, and look out over our peaceful view of Praia Bay and the nearby Marina.
"Holy Smokes, darling. Look at this!"
About a mile in the distance, smoke rose over the Marina, blue lights and red lights flashed, and a plume of smoke drifted at least a kilometer toward the airbase and airport. The ever-present Steiner binoculars I've had for years came up immediately, and we determined it was a boat aflame. Naturally, like most of the folks around the bay, we jumped into the car and drove across town to the marina (about one mile), where we saw several U.S. A.F. and Bombeiros do Praia trucks putting out the flames on a huge cabin cruiser (I would estimate about 70-foot) that had been tied up for many many many years.The rumors were that it had been siezed by the Portuguese government for taxes, drugs, who knows, etc.
It now sat in the shallow marina, still tied to the dock, mostly submerged and covered in foam, ashes; basically a sunken wreck. Rumors abound. Not sure what "really" happened because part of the Portuguese culture seems to be not explaining everything.
Keep in mind that Terceira is an island of serenity, tranquility, peacefulness, and basic pleasantness. This appeals to many American and Canadian ex-pats. I, for one, have many family members in the US who are amazed that I have adapted to this serenity. But every now and again, we have excitement!!! Of course, after our cursory investigation, it was time to go home, wash dishes, and make lunch:)
Still wondering, of course, if, after all these years, the boat had insurance:)