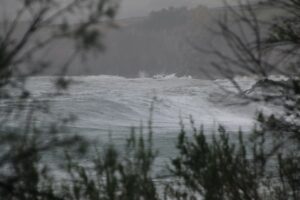 I'm sitting here reading a brief history of Japan and how it grew into a colonial power like other "western powers" and the ironies which came with that.
Also sitting here listening to the winds howl. Had a fire going, a glass of wine (or two) and observing distant lights on the commercial port through the horizontal rain. Her cats are huddled together in the garage, and the warden is asleep, dreaming sweet dreams without care. So it's me, the wind, and a good book. Actually, not a book, but a mini-iPad I have used for years; it travels well, doesn't get dog-eared pages, and I can watch movies, listen to tunes, and read, all in the same amount of space on an airline seat. Teachers and librarians in the family don't approve, but … oh well, if that was the only thing they didn't approve of:)
As winds whistle (or blast) past the windows, I realize I am taking comfort in reading. All kinds of things. Biographies, novels, mysteries, war stories, you name it. I harken back to school days…from Grade 3 through High School. When I sought comfort, I read. I skipped classes, sat in the library or nearby woods, and read. Loved it. Pretty good at it (often a book a day). Now here I am, reading:)
Retirement is supposed to give you time to relax and enjoy the life you've earned. I'm busy… too often. Helping folks, which I live to do. But in the wee hours of each morning, as winds whistle, I read. I'm not into book clubs, group discussions, even comparing notes. (Actually, one daughter enjoys going to a used book shop in Virginia and picking out some older books, many of which I read and she has yet to, so we compare notes and bond!) I just read to be by myself and "enjoy the life I've earned!"
So years of hard work — very hard work sometimes — and planning have paid off. I'm enjoying a good book. (All right folks, not a good "book" but good writing on an electronic screen!) Let the wind blow, let the fire crackle, let the wine flow, and let me enjoy my peace. The sun will be up soon, and then it's back to my other 'retired' life. "Yes, dear. I'll set the table and sweep the floor." Glad to help you change your tire, set up a new application on your computer, etc.
But for now, peace, quiet, and a good "book."