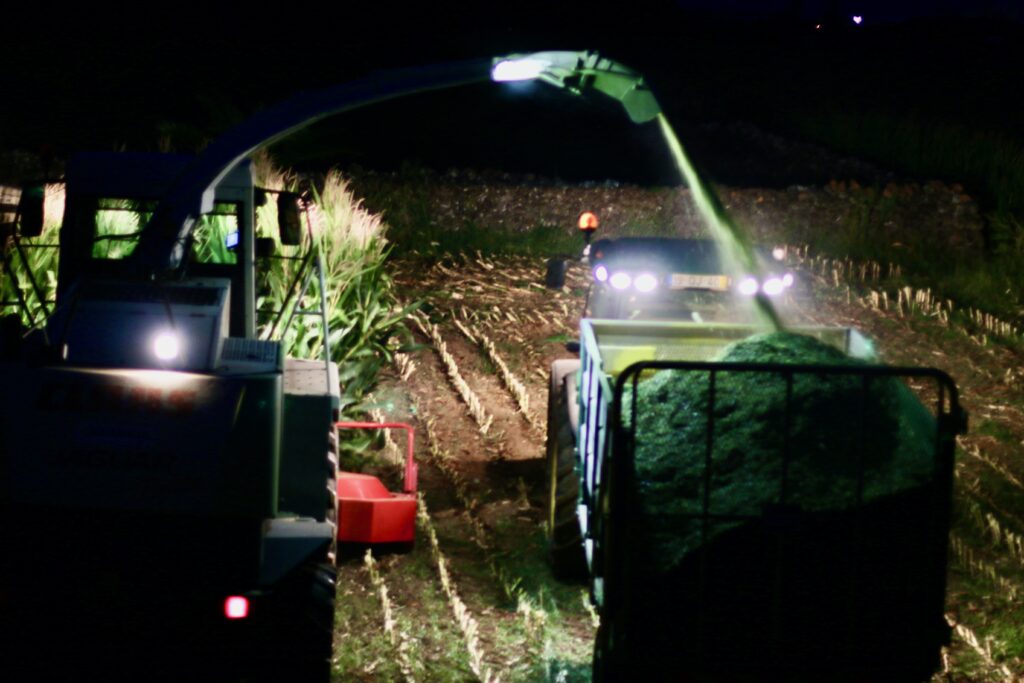 We love sitting in the backyard at night, shielded from street lights, to gazing at stars, enjoying tranquility, and reflecting on the day or how lucky we are to sit in this unique, beautiful land. Few things I enjoy more; but one of them is any and every display of precision!
My family tells tales of my fascination with precision performances, Formula One pit stops, aerobatic teams including the Frecce Tricolori, Red Arrows, Blue Angels, Thunderbirds, Grasshoppers, etc. I love sitting at breakfast and watching the choreography of watching ships sail into the port, tugs and pilot boats meeting them, docking them, and unloading them. I even focus on the precision of when to shift the car perfectly smoothly. I admire precision!
So the other night our peaceful reverie was shattered with the sudden appearance of dozens of headlights coming through a stone wall separating nearby fields of corn. A combine — as tall as the 25-foot drop from our back yard to the field below and as wide as three cars — roared into the field. It was towing a trailer for the cornstalks, and half dozen more tractors, all lined up in each of the three corn fields where "our cows" normally graze and milk. The combine operator carefully cut a swath from one stone wall to the other, curving, backing, and progressing down the field. Each tractor and trailer maneuvered into position next, driving parallel to the combine, receiving the ground corn and stalks blown into the trailer until that one filled and another was pulled into position. All this done in a stone-walled field smaller than a soccer field. Then on to two more fields. In less than an hour, seven trailers filled, before everyone rode off into the moonlight. We didn't; we slipped inside and had a drink and marvelled.
I make note of the fact that our neighbors here are not military men, not technological masters, not scientists, engineers, or mathematicians. These are folks who are out working their fields and cows every day, rain or shine, drinking beer at the festivals, cheering on bulls in street bullfights, and singing next to us in church. Their precisions comes from necessity, efficiency, and years of practice. These people are precise and friendly survivors.
So it is not at all difficult to admire them and give them a friendly wave and salute when they drive past, or when they are leading their cow herd down the street. More of the joy of life here 🙂