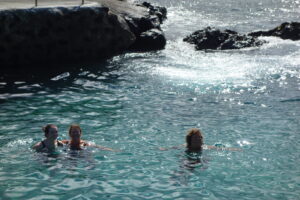 Sabrina surprised Mom one morning with a week-long visit; Sabrina and I had been planning it since June..tough keeping something. like that a secret! (Bridget couldn't make this trip:() Mom was very surprised!  We took the week off from day-to-day life and had a relaxing visit with Sabrina, who hadn't been back here for almost two years.
Retirement overseas changes some of the family dynamics. I was raised driving an hour to spend weekends and holidays with cousins, aunts, uncles, and grandmothers. Sofia was raised with her entire family less than 10 minutes away….by foot. Even though we now have near-daily video calls, nothing beats an in-person hug!
It also makes us remember some of the unique characteristics of life with "children." Hair in the shower drain, lively discussions of which recipe is best, which kitty is the cutest, and if it's important to sleep until 11 a.m. every day:).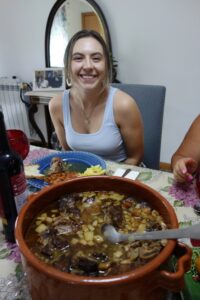 Any visit to the Azores is measured in the time from one meal to the next. Three sisters making lunches, dinners, of Alcatra, Feijoada, and baking Filhoges. Then off to the beaches for a few hours punctuated by snacks of fresh Donettes and warm Corn on the Cob, then home for dinner. Lunches at Caneta and O Alambique. I just settle for the wine!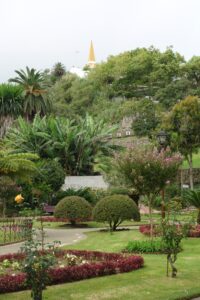 Then a leisurely walk in the rain-soaked Angra Gardens. (We met a man from California standing under a huge old tree remembering when he was five years old, collecting a few leaves from the tree to take home for family tea:))
So against the backdrop of a stress free summer on Terceira, a surprise visit by one daughter doesn't really add interruption, but enhances each day. Now that's relaxing!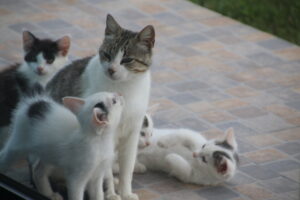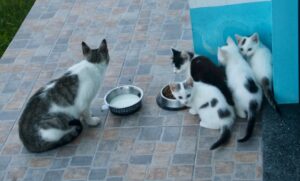 Next year maybe both daughters can make it:)